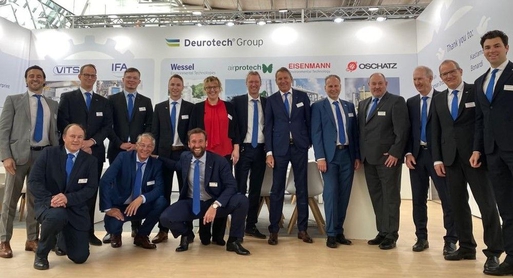 15 MAGGIO 2023
LIGNA 2023
𝗟𝗜𝗚𝗡𝗔 𝟮𝟬𝟮𝟯 | 𝟭𝟱 - 𝟭𝟵 𝗠𝗮𝘆 𝟮𝟬𝟮𝟯 | 𝗛𝗮𝗻𝗼𝘃𝗲𝗿 𝗠𝗲𝘀𝘀𝗲
𝗪𝗲 𝗮𝗿𝗲 𝗹𝗼𝗼𝗸𝗶𝗻𝗴 𝗳𝗼𝗿𝘄𝗮𝗿𝗱 𝘁𝗼 𝗺𝗲𝗲𝘁𝗶𝗻𝗴 𝘆𝗼𝘂 𝗶𝗻 𝗽𝗲𝗿𝘀𝗼𝗻 𝗮𝗴𝗮𝗶𝗻!

𝗚𝗲𝘁 𝘁𝗼 𝗸𝗻𝗼𝘄 𝗼𝘂𝗿 𝗰𝘂𝘁𝘁𝗶𝗻𝗴 𝗲𝗱𝗴𝗲 𝘁𝗲𝗰𝗵𝗻𝗼𝗹𝗼𝗴𝘆 𝗶𝗻 𝘀𝘂𝗿𝗳𝗮𝗰𝗲 𝗰𝗼𝗻𝘃𝗲𝗿𝘁𝗶𝗻𝗴:
Innovative systems for impregnation and coating as well as resin processing. Vits Technology GmbH and IFA Technology GmbH will be pleased to present you the latest innovations.    

Wessel-Umwelttechnik GmbH, Eisenmann Environmental Technology, airprotech S.r.l. and Oschatz Power GmbH 𝘄𝗶𝗹𝗹 𝘀𝗵𝗼𝘄 𝘆𝗼𝘂 𝘀𝘂𝘀𝘁𝗮𝗶𝗻𝗮𝗯𝗹𝗲 𝘀𝗼𝗹𝘂𝘁𝗶𝗼𝗻𝘀 𝗳𝗼𝗿 𝗮𝗶𝗿, 𝘄𝗮𝘁𝗲𝗿 𝗮𝗻𝗱 𝘄𝗮𝘀𝘁𝗲:
Resource-saving and energy-efficient systems for exhaust air purification, water treatment and waste disposal with material recycling as well as innovative systems for energy recovery.

𝗜𝗺𝗽𝗿𝗲𝗴𝗻𝗮𝘁𝗶𝗼𝗻, 𝗿𝗲𝘀𝗶𝗻 𝗽𝗿𝗲𝗽𝗮𝗿𝗮𝘁𝗶𝗼𝗻 𝗮𝗻𝗱 𝗲𝗻𝘃𝗶𝗿𝗼𝗻𝗺𝗲𝗻𝘁𝗮𝗹 𝘁𝗲𝗰𝗵𝗻𝗼𝗹𝗼𝗴𝗶𝗲𝘀 – 𝗲𝘃𝗲𝗿𝘆𝘁𝗵𝗶𝗻𝗴 𝗳𝗿𝗼𝗺 𝗼𝗻𝗲 𝘀𝗼𝘂𝗿𝗰𝗲.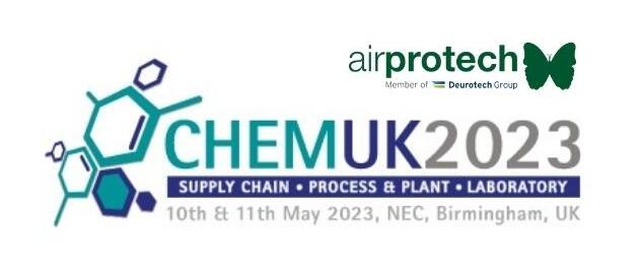 10 MAGGIO 2023
CHEMUK 2023
Visit us at CHEMUKEXPO in Birmingham: Booth D32

Come and see our latest solutions for air pollution control in the chemical and pharmaceutical industry on 10th and11th May.

Our team is glad to welcome you!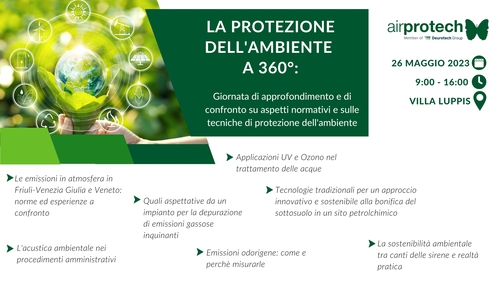 14 APRILE 2023
SEMINARIO 26 MAGGIO 2023
Airprotech organizza un seminario per il giorno 26 maggio presso Villa Luppis (Pordenone) dal titolo "La protezione dell'ambiente a 360°".
Se interessati a partecipare, mandare cortesemente un'email all'indirizzo: g.castiglioni@airprotech.eu indicando nome e cognome, società/ente di appartenenza.
Qui maggiori informazioni sui relatori.
Vi aspettiamo!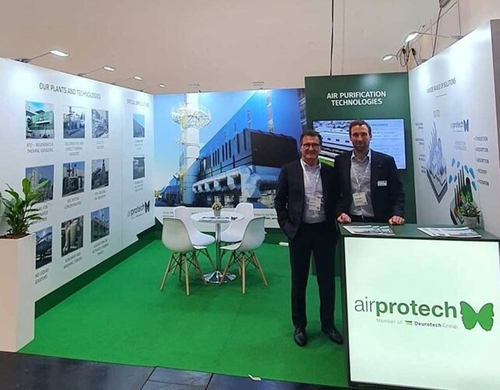 14 MARZO 2023
ICE EUROPE 2023 - MONACO
Visita airprotech alla fiera ICE Europe a Monaco: Padiglione A6 Stand 934

Dopo lo strepitoso successo dello scorso anno in ICE Europe, siamo tornati e pronti a mostrarvi le nostre nuove tecnologie!

ICE Europe è un marketplace internazionale per l'industria della trasformazione dove presentare innovazioni e generare opportunità di business. 

Vieni a scoprire le nostre più recenti soluzioni per il controllo dell'inquinamento atmosferico nel settore del coating, ti aspettiamo dal 14 al 16 marzo a Monaco.

... e se non puoi venire in persona, non esitare a contattarci.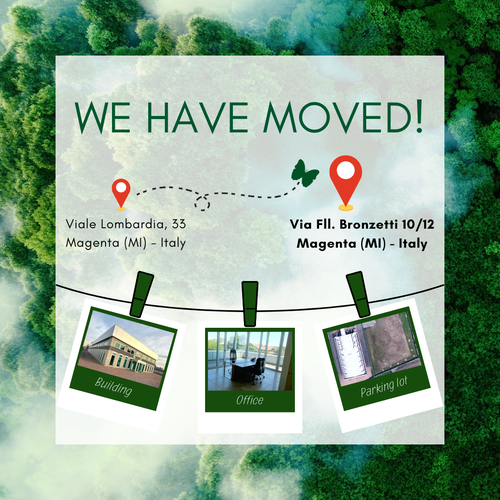 9 GENNAIO 2023
NUOVO ANNO, NUOVI UFFICI
Siamo lieti di informarvi che ci siamo appena trasferiti nei nuovi uffici!
3.000 m² di uffici ad ampie vetrate e 5.000 m² di parcheggio privato.
Con l'avvento del nuovo anno, ci trovate in: Via F.lli Bronzetti 10/12, Magenta (MI) – Italy.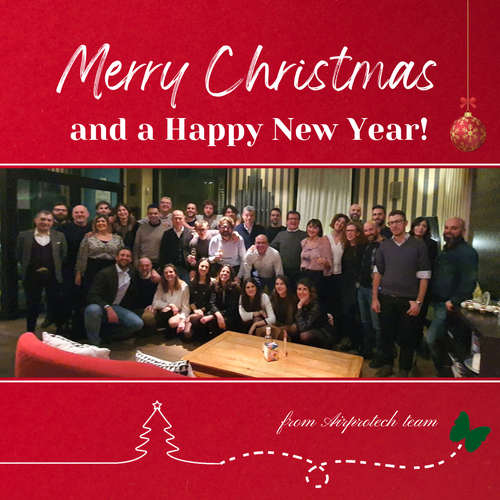 24 DICEMBRE 2022
MERRY CHRISTMAS!
The whole team of airprotech wishes you a Merry Christmas and a Happy New Year!
Thank you for your cooperation and for the support. See you in 2023!
Enjoy your holidays!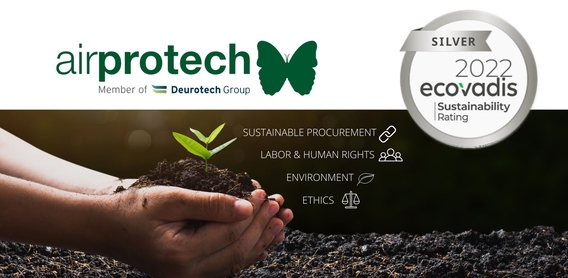 16 NOVEMBRE 2022
MEDAGLIA D'ARGENTO IN SOSTENIBILITÀ
EcoVadis, l'agenzia internazionale di rating impegnata a promuovere miglioramenti nella gestione sostenibile della supply chain, ha assegnato ad airprotech la medaglia d'argento in 4 diversi ambiti: acquisti sostenibili, pratiche lavorative e diritti umani, ambiente e etica.
Questo riconoscimento certifica la conformità di airprotech nei confronti della responsabilità sociale e della sostenibilità aziendale. La sostenibilità è parte integrante del DNA della nostra azienda dalla sua fondazione nel 1995. Il nostro impegno non si limita al suo core business, il quale ha un ruolo importante nella protezione dell'aria, ma si estende anche ai clienti e ai dipendenti.
Lavoriamo costantemente per dare ai nostri stakeholder il meglio in termini di qualità, servizio e affidabilità.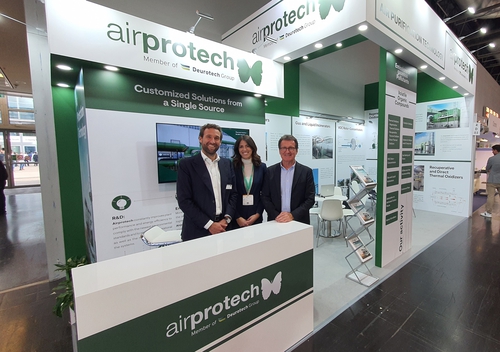 26 OTTOBRE 2022
K 2022 - DÜSSELDORF
Vieni a trovarci alla fiera K2022 a Düsseldorf: stand 4D03
Nel nostro stand presentiamo soluzioni innovative per la purificazione dell'aria di scarico. Siamo lieti di presentarvi le nostre tecnologie ambientali per il controllo dell'aria inquinata e i nostri sistemi per la pulizia dei gas di processo inquinati.
Il nostro team è lieto di darvi il benvenuto!
… e se non puoi farlo di persona, non esitare a contattarci  https://lnkd.in/dwNeK8BC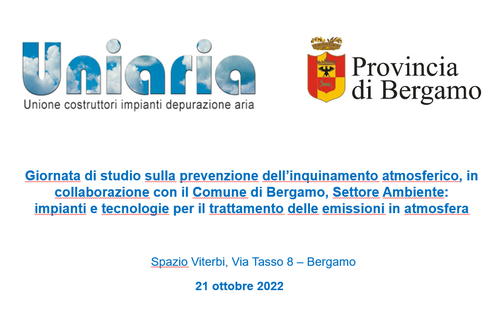 21 OTTOBRE 2022
CONVEGNO UNIARIA
Venerdì 21 ottobre 2022 abbiamo avuto l'opportunità di partecipare come relatori al convegno indetto da Uniaria presso Palazzo Provincia a Bergamo dal titolo "Prevenzione dell'inquinamento atmosferico: impianti e tecnologie per il trattamento delle emissioni in atmosfera", focalizzando il nostro intervento sugli ossidatori termici e catalitici, impianti a carboni attivi e rotoconcentratori.

Un momento stimolante di discussione su tematiche estremamente importanti.

Ringraziamo tutti i partecipanti, in presenza e online, e ci auguriamo di avere in futuro altri momenti costruttivi di dibattito.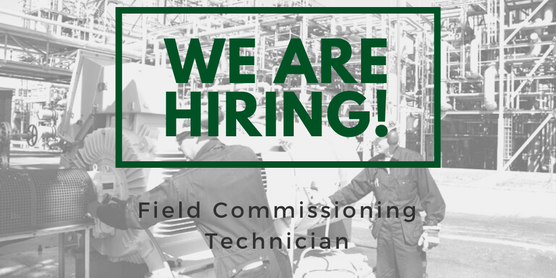 15 GENNAIO 2020
WE ARE HIRING
Airprotech S.r.l. member of the Deurotech Group, a growing design and production firm, is looking for a Commissioning Field Technician for its Magenta (MI - ITALY) office. The primary focus of this position is to perform commissioning field activities including site inspections, field reporting and functional testing.
The requirements for this position include having 3-5 years of commissioning and/or maintenance management as well as a bachelor's degree in Engineering or a Technical Diploma.
The responsibilities of this position include:
Perform all field activities including installation checks, functional checks and functional performance testing, equipment startups and equipment production allignement.
Providing required documentation, i.e. test forms, startup reports, etc.
Complete department developed field paperwork including equipment checklists and test forms
Successfully document site visits with photos and notes that are kept on the network for ease of access.
If you are interest in this position, please send your CV to info@airprotech.eu specifing in the email title: "CV for start-up technician"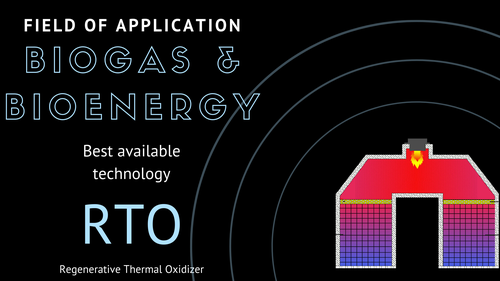 8 DICEMBRE 2019
BIOGAS & BIOENERGY
BIOGAS
 
Biogas stands for a gas mix, mainly composed by methane, coming from the anaerobic fermantion of organic material.
 
BIOMETHANE
 
Biomethane is a combustible gas derived from the biogas upgrade process.
 
Best Available Techonolgy
RTO - Regenerative Thermal Oxidizer
 
- For the treatment of the off-gas coming from cogeneration motor
- For the treatment of the off-gas coming from the biogas upgrade
- Perfect integration with the process
- Respect of the emission limits
Airprotech - Always a step ahead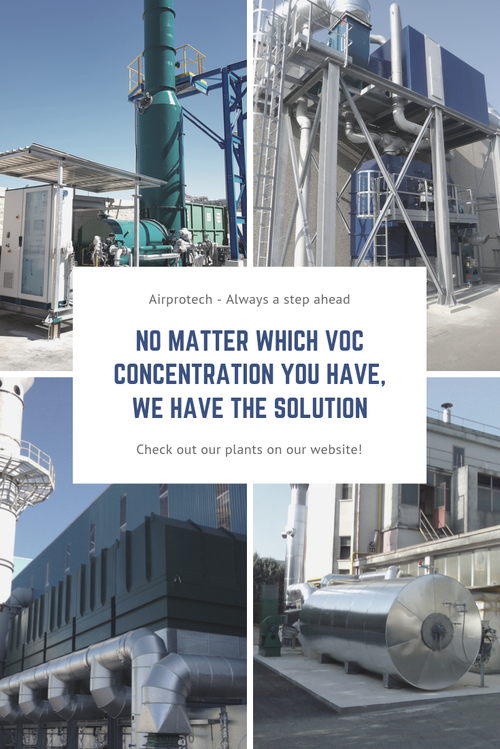 24 OTTOBRE 2019
AIRPROTECH - ALWAYS A STEP AHEAD
No matter which voc concentration you have, we have the solution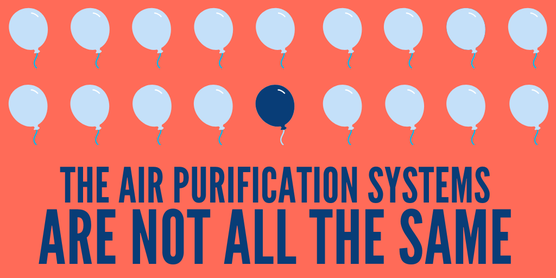 8 OTTOBRE 2019
CLEAN THE AIR + SAVE ENERGY
The air purification systems are not all the same
Airprotech - always a step ahead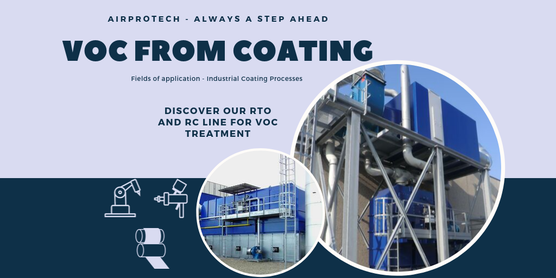 23 SETTEMBRE 2019
VOC FROM COATING
TYPE OF COATING PLANTS
The plants used are mostly spray coating machines, booths, roller coating machine or coantinous painting lines. No metter which the source of emission, Airpretech has the solution to treat the emissions containing VOC.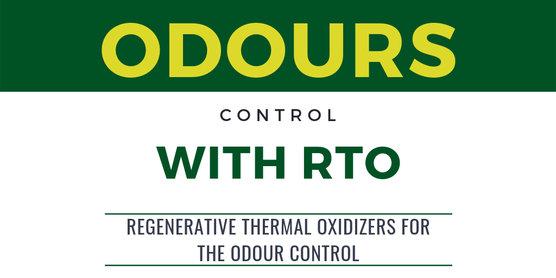 17 SETTEMBRE 2019
REGENERATIVE THERMAL OXIDIZERS FOR THE ODOUR CONTROL
Stink and bad smell coming from production can represent a big issue
Fields like AGRO&FOOD or WASTE&RECYCLING can be effected by this problems
Stink and bad smell can also create problem to the citizen
SOLUTION
The solution should be a system that can treat the bad smell and, at the same time, can guarantee the respect of the emission limits
The RTO solution can reach the highest permormance in the odor abatment assuring low running costs. All the system are also designed trying to recover much energy as possible.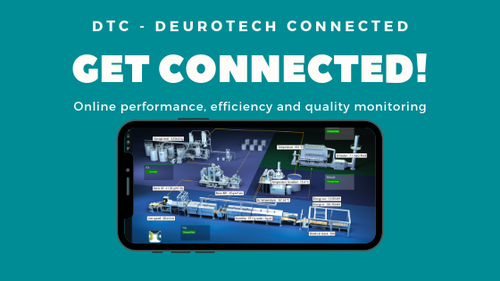 26 AGOSTO 2019
DTC - DEUROTECH CONNECTED
INDUSTRY 4.0
- Your production overview - pictured at a glance
- Network for all Deurotech Group units
- Live data in-line measurements
- Smart connection through secure protocol
- Continuous data recording for real-time analysis
- Predictive maintenance
- Secure data storage for product quality control
- Trend spotting for detailed production reports
- Warning notices via pop-up, E-mail or SMS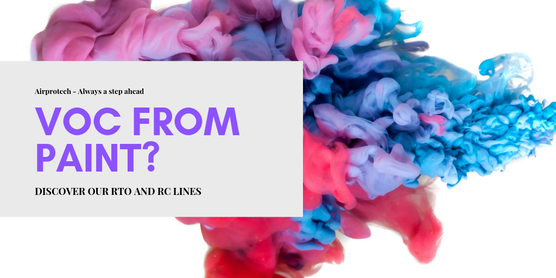 5 AGOSTO 2019
VOC FROM PAINT?
DISCOVER OUR RTO AND RC LINES
AIRPROTECH - ALWAYS A STEP AHEAD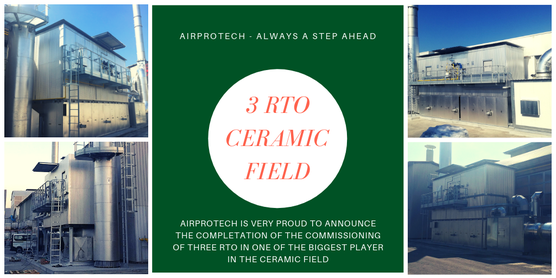 31 LUGLIO 2019
3 RTOS IN THE CERAMIC FIELD
AIRPROTECH IS VERY PROUD TO ANNOUNCE THE COMPLETATION OF THE COMMISSIONING OF THREE RTO IN ONE OF THE BIGGEST PLAYER IN THE CERAMIC FIELD